in minerals, expensive and then also with charged germs, This is still mineralwater in Germany. None other than the Stiftung Warentest has examined and found. Overlooking the mineral content of still water from the supermarket can hardly keep up with water from the tap. Especially the lack of carbonic acid makes the still water for germs prone.
Which varieties are doing particularly badly, we want to tell here. We also show how you can create a delicious, trendy "Infused Water" itself quickly with good tap water. This is also the end of the heavy towing.
Still waters run deep and full of bad surprises
It has since spread that the water from the German water pipes is not so bad. Nevertheless, the Germans buy incessantly heavy water bottles, but why? Still mineral water is downright trendy. For many years a sales record after the other and the classic bubble looks only envy behind.
But the quality of still mineral waters to be desired. Less than half of the species is considered good by Stiftung Warentest and just two "organic water" did not pass the test. Like those germs have come into the water, it may be wild speculation. But one principle applies: carbonic acid inhibits the growth of germs. This protection mechanism is completely missing the still water.
Winners and losers of the test
The germ-cocktail "Rheinberger Prussia source" with the organic label can people with weak immune systems, babies are to be really dangerous. Also with a rating of "Poor", the water had to settle for "Biokristall" because it is pregnant by radioactive radium.
Clearly we must appease at this point, arguing that the resulting radiation dose is not yet classified as acutely hazardous to health according to EU limits, but at least the guidelines for organic water see quite something different conditions before.
"Christina" is a different organic water that shone with rod-shaped bacteria, also not so pleasant for people weakened. Since healthy to deal with it to some extent, they gave a generous "sufficient" here.
Whoever still wants to buy still mineral water, can confidently pack the very cheap bottles, because the best ratings were given varieties in the price range by 13 cents per liter:
"Low Priced Still" from the Baruther Johannesbrunnen to have at Edeka.
"Quellbrunn temperament" from the Brandenburg Urstromquelle at Aldi Nord
"Yes silence" from the fountain Fontane at Rewe.
"K-Classic still" Kaufland
Baby Water is nonsense
The three tested "baby water" were mediocre. Other mineral waters meet the requirements at least as well, if they carry only the following notice in small print: "Suitable for the preparation of infant formula". Moreover, baby food should always be prepared with boiled water during the first three months.
As is true of bottled water?
The consumer magazine Ökotest dealt with 53 classic mineral waters. "Good" or "Very good" was, after all, every second rated, nine were only "sufficient" because arsenic, boron, residues of pesticides and uranium floating in it. An "Unsatisfactory" conceded "Apollinaris Classic" because boron and arsenic just could not convince the testers.
Mineral water is overtaken by drinking water
If water comes from deep, protected springs and practically did not have to be further treated, it may be described as mineral water. Drinking water comes from groundwater, rivers, lakes and dams and prepared from the waterworks to finally dabble with us from the line.
The melodious naming "Natural mineral water" is in any case quite effectively thwarted by residues of pesticides or corrosion inhibitors, although the found quantities should not be really hazardous to health.
In a mineral no minimum amounts of minerals are more prescribed way, since 1980 and still water like characterized by the almost total absence of minerals today. However, notable exceptions were products of Extaler and Contrex.
Tap water under the microscope
then Stiftung Warentest took the tap water of 20 German sites and the samples tested in unison to 126 contaminants with the gratifying result that all waters met the stringent requirements of the Drinking Water Regulations. Still, there were shortcomings as traces of pesticides or their degradation products. Three samples contained minute traces of drugs, but still well below homeopathic dilution levels.
Even minimal amounts of a chromium compound, which is classified as carcinogenic were detected in three other samples. but to emphasize is that not a single sample of tap water gave rise to health concerns. On demand, water utilities are always happy to provide the corresponding analysis results.
Infused Water
Especially in the summer it is extremely important to take enough fluids. But who may already constantly drink boring water? Supposedly healthy juices are therefore not a good alternative because they often contain a lot of sugar and acid.
These considerations lead to a compromise with the designation "Infused Water" or "Detox Water" has developed. It is about good water with a bit of taste, that can prepare any easy and in no time itself.
The secret behind it in the fresh, chopped fruit and vegetable pieces, ready with mineral water or just simply pour repeated only with tap water. For pulling you let the drink a few hours in the refrigerator, where it should be consumed the same day still possible.
In addition to fruit and vegetables and herbs work very well. Popular include ginger, mint, lemon and cucumber. What is not heard inside are sugar or sweetener, as well as alcohol. Otherwise you can leave running totally free your creativity.
The refreshing lemon provides energy and stimulates the metabolism and digestion. Fruit and berries in particular bring some sweetness into the water. In addition, they promote your immune system. Rosemary, it is generally agreed, is to regenerate, muscle relaxant, which has a positive effect on your concentration and your memory. And the mint makes beautiful skin and prevent allergies.
My favorite recipe
ingredients for 2 liters (line) water: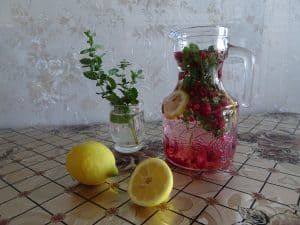 1/2 untreated lemon
2 - 3 sprigs fresh lemon balm
75-100 grams of frozen raspberries
preparation:
The lemon slice.
In a carafe enter and fill with water.
Raspberries and lemon balm add.
Up to 5 hours can be drawn in the refrigerator.
Already finished, it must be drunk. Salute!